Dec
18
2014
Details

Written by UWP
Hits: 113
Obama, Raul Castro thank Pope Francis for mediation
New York, December 17 - United States President Barack Obama and his Cuban counterpart Raul Castro on Wednesday announced an historic thaw in relations between the two countries.
"We will start to normalise our relations with Cuba," Obama said in a television address.
"We'll put an end to this outdated approach to Cuba... I have given Secretary of State John Kerry the mandate to launch immediate negotiations to revive the dialogue that stopped in 1961...
Dec
16
2014
Details

Written by UWP
Hits: 81
On the International Human Rights Day, the manifesto signed by the UNIRedes organisations promotes action for a more fraternal and more socially united world.
«64 years after the institution of the International Human Rights Day [10 December] and of the appeal to "all peoples of the world" launched by the United Nations General Assembly," we, the members of UNIRedes, wish to make public our constitution on the network, in order to foster authentic partnership relations, and build a more just and fraternal world, in pursuit of total respect for human rights.» These were the opening lines of the "Manifesto" signed on the occasion of the International Day of Human Rights, by over 50 social organisations, initiatives and movements of 12 Latin American and Caribbean countries involved in UNIRedes.
Dec
13
2014
Details

Written by UWP
Hits: 99
No one should become an accomplice in "man's exploitation by man," an activity that touches millions of people forced by violence into "slave labour". In view of the situation, "There is a need for just laws" and international cooperation. Everyone has a "specific role and responsibilities, to practice acts of fraternity" towards the victims of exploitation.
Vatican City (AsiaNews) - In his message for the 48th World Day of Peace, Francis warned against becoming accomplices in the many forms of modern slavery. Millions of people are sadly involved in "man's exploitation by man," forced by violence into "slave labour, [. . .] men and women labourers, including minors, [who are] subjugated in different sectors, whether formally or informally", migrants and poor. In view of this, the pontiff issued an urgent "appeal to all men and women of good will, and all those near or far, including the highest levels of civil institutions, who witness the scourge of contemporary slavery" to take action against slavery.
Dec
11
2014
Details

Written by UWP
Hits: 143
Yesterday in Oslo the Nobel Peace Prize ceremony for Malala Yousafzai and Kailash Sathyarti, awarded last October.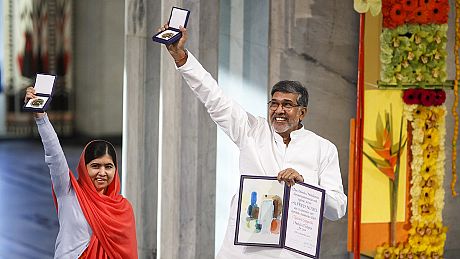 Two champions of children's rights have been honoured with the Nobel Peace Prize at a ceremony in Oslo.
The award was shared between Indian activist Kailash Satyarthi, 60, and Pakistani teenager Malala Yousafzai, at 17 the youngest person ever to receive it.
Dec
09
2014
Details

Written by UWP
Hits: 154
Super Soccer World 2014, a worldwide soccer tournament for teens who would like to use sports as an instrument for building relationships and for peace among different countries. There were 56 teams involved from various cities around the world.
A soccer tournament where the winner is not one team but two and from different parts of the planet sometimes very far from each other? Where Art Play is practiced and awarded? Where the sponsors are willing to donate an amount for every goal as a contribution to finance scholarships for teens from disadvantaged countries? Many initiatives and projects of solidarity? A "third playing time"…?
«This and many other things were part of the Super Soccer World 2014 – Federico Rovea, one of the organizers of the event shared with us. This sporting event was promoted by the "Teens for Unity" of the Focolare Movment and involved 56 soccer teams from various cities in the world».