Jul
04
2015
Details

Written by UWP
Hits: 145
Suffering, freedom and fraternity are the central themes of the meeting. It's a dialogue that translates into concrete actions in their own cities. They are received in private audience by Pope Francis.
Buddhists and Catholics from the United States are holding an interreligious dialogue meeting for the first time near Rome this week, focused on the themes of 'Suffering, Liberation and Fraternity'. The five day meeting, which opened on Tuesday at the headquarters of the Focolare Movement in Castelgandolfo, Italy, includes 46 Buddhist and Catholic participants from New York, Chicago, San Francisco, Los Angeles and Washington D.C.
Jul
02
2015
Details

Written by UWP
Hits: 89
Experience of Abraham, young Mexican

Hello, my name is Abraham and I come from Mexico, which is a country of noble people and great faith, a people with arms open to the world.
Today we are livingin a difficult situation.The fight against drug trafficking began in 2006, a war that in eight years has killed more peoplethan the Vietnam War. All these people are not just criminals, sometimes they are innocent journalists, activists, and others.
Jun
30
2015
Details

Written by UWP
Hits: 123
World Refugee Day

"It is necessary to respond to the globalization of migration with the globalization of charity and cooperation, in such a way as to make the conditions of migrants more humane. At the same time, greater efforts are needed to guarantee the easing of conditions, often brought about by war or famine, which compel whole peoples to leave their native countries.
Jun
27
2015
Details

Written by UWP
Hits: 154
In the face of deforestation issues, Raimundo and Edilene, with other families were able to create in the heart of the Amazon forest, an area that preserves local biodiversity, in line with the "Laudato Si" document, the encyclical letter of Pope Francis on care for our common home.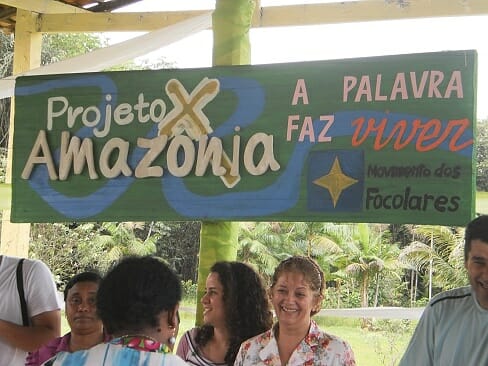 Raimundo is a hairdresser and Edilene, an anesthetist and public administration clerk. So to take interest in the environment is not exactly their line of expertise. But in the face of the environmental and cultural invasion they are undergoing, together with other families with whom they share Christian ideals, they started to pose some questions to themselves. What heritage would we be leaving to our children? How can we diffuse our vision to a society that seems to be unaware of this destruction? How can we go against the current?
Jun
25
2015
Details

Written by UWP
Hits: 138
Like every year, in early May the Youth for a United World all over the world have made a lot of activities and initiatives within the United World Week. Below you find the last fragments (others at these links: 1 - 2 - 3 - 4).
India. As we know, in Mumbai and Coimbatore there was the central event of UWW 2015. "Fabric, Flavour, Festival - Discovering fraternity", with more than 170 young people from 16 countries. Different cultures and pretty much all the great religions (Hindus, Muslims, Christians, Buddhists) and many languages, with the participation of the Rissho Kosei-kai from Japan and the great collaboration of the Shanti Ashram. From there we also launched a worldwide fundraising for Nepal. Photos at this link