The first anniversary of the ISIS invasion of the Nineveh Plains, the Catholic Church promotes a series of prayer vigils in Fheis. A moment of relief amidst tragedy.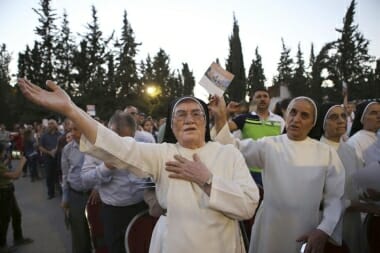 On August 7, 2015, the Catholic Church in Jordan held a prayer vigil to commemorate last year's tragic events that displaced more than 100,000 Christians.
More than 2000 faithful, the majority Iraqi refugees, held a solemn prayer vigil steeped in pain, at the church square of Fuheis. From Jordan they write: "The letter written by Pope Francis was of great comfort, and also the concrete help that the Italian Bishops Conference (CEI) decided to provide, which will allow 1400 Iraqi children to attend school this year."
The evening of prayer was also attended by the Secretary General of the CEI, Bishop Galantino accompanied by Father Ivan Maffeis; Chaldean Patriarch of Iraq, Gishop louis Sako with his vicars, Bishop Salomone Warduni and Bishop Basil Yaldo; the Latin Patriarch, Fuad Twal; Latin Bishop Salim Sayegh. Also present was the Secretary of the Nunciature, Bishop Roberto Cona with several of his priests from various Rites, also from the Orthodox Church in Jordan and Iraq, as well as several civil leaders.
The focolarine from Fheis write: "Following the prayer service a supper was offered to the various leaders at the Sisters of the Holy Rosary, offered by the local Caritas. But, unexpectedly, the Latin Bishop of Amman in agreement with the Secretary of the Nunciature wished for the supper to be held at our house! So, the last-minute preparations began amidst great joy and emotion over this unexpected blessing from God, that our home could be a welcoming-place for the Church."
"Forty people came, including the Mayor of the city and several other civil authorities. The Cardinal, Patriarchs and Bishops wanted to spend some time in prayer in our chapel: a solemn moment."
This opportunity for Christians to be gathered together in prayerful unity was a strong summons especially during this period of great uncertainty in the Middle East. "A moment of relief for a martyred land."
Source: focolare.org