In the face of the recent escalation of violence in the Holy Land Pope Francis invites us to pray: "Hope and progress flow only from peaceful choices. So, let us join together in one intense and faith-filled prayer to the Lord."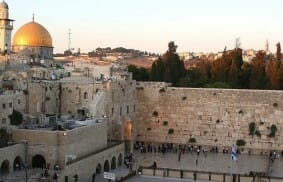 "We are painfully wounded and follow with deep concern what is taking place in Syria, Iraq, Jerusalem and the West Bank where we are witnessing an escalation in the violence that involves innocent civilians and continues to increase a humanitarian crisis of enormous proportions. War only brings destruction and multiplies the sufferings of entire populations," stated Pope Francis during the works of the Synod on the Family.
"Thank you for your prayers, for this situation we are going through in the Holy Land," writes the local Focolare Community there. "The hatred leads to violence, and the violence to more hatred...
a vicious circle is spinning out of control. You can see the situation here transmitted on the media every day. All of us, from both sides, like many other people are deeply saddened and feel helpless in front of this evil. We try to move carefully; we pray more; we try to sow love with a smile or an act of kindness. . ." "We continue to pray and to build peace," they conclude, "hoping that the longing for reconciliation prevails."
Source: focolare.org